NGO Name:
Arab Agronomists Association
Logo: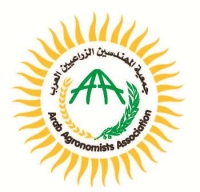 History:
The Arab Agronomists Association was founded in 1992 as an initiative from the Palestinian Agricultural Relief (PARC), as a civil non-profit organization that aimed to contribute to the development of the agricultural and rural Palestinian society and focused in its programs on sustainable agricultural development and the construction of specialized agricultural communities. The Association since its beginning has been working on implementing many different programs since it is a professional association specialized in many fields such as the training programs for the recently graduated agronomists in cooperation with the Palestinian Agricultural Relief (PARC), in terms of raising the technical competence and the creation of employment opportunities for them, in addition to the agricultural extension program, development of organic agriculture, improving local seedlings in Palestine, as well as university education ,higher studies ,scientific research and applied projects that address and solve various issues in the agricultural sector and the Palestinian rural areas. In addition to the establishment of mutual relations and the international and regional cooperation with Arab institutions working in agricultural development, in order to contribute in the development of the Palestinian society.
Objectives:
The AAA seeks to achieve the following objectives: 1-Assisting new graduates to find job opportunities. 2-Raising the scientific, cultural and technical level of the newly graduated agronomists. 3-Implementing developmental agricultural projects that is congruent with AAA objectives. 4-Conducting research papers, studies and surveys in addition to providing agricultural services. 5-Contributing towards solving collective problems faced by the members such as housing, health insurance, university education… 6-Loaning agronomists or participating in their productive projects, which correspond with AAA objectives. 7-Providing technical extension and consultancy services in the field of IPM, organic farming, bio diversity and local seed enhancement. 8-Contributing towards connecting applied research centers with the targeted groups of women, farmers and youth. 9-Contributing towards documenting local capabilities and experiences and connecting these experts with local, regional and international organizations.
Board Memeber:
Current Position within the Board::