NGO Name:
Palestinian Network for Small and Microfinance
Logo: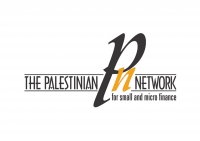 History:
The Palestinian Network for Small & MicroFinance is a non-profit non-governmental organization. Established in 2002, the network represents a forum of micro finance non-profit institutions and programs that aims at providing financial services to small enterprises, and focuses its efforts on the growth of microfinance industry in the West Bank and Gaza Strip, particularly that micro financing is considered one of the strongest tools for economic development consistent with Palestinian economy needs. The Palestinian Network for Small & MicroFinance is considered a link connecting microfinance institutions together and maintaining open communication channels for dialogue amongst institutions and other actors in the field. The Network provides its members with a variety of services and activities to enhance its employees' abilities and thus its performance, to help microfinance institutions reach and maintain operational and financial sustainability. The Palestinian Network for small and MicroFinance believes that good management of the Microfinance industry at the national level, in addition to the provision of financial services to owners of small enterprises in a systematic manner, would activate the potential capabilities within the sector of small enterprises and increase its contribution to the Gross National Income, thus increasing the welfare of individuals. According to the Network's estimates, Palestinian economic activities depend to a large extent on the increasing growth of small enterprises. The Network believes also that the combined efforts of the PNA, microfinance institutions, decision-makers in the society, and civil society organizations as well as international development donor organizations are the guarantee for realizing the overall goal of the network and lending organizations, i.e. to preserve the sustainability and success of small enterprises and enhance their productivity through continuing to provide small financing products.
Mission:
Develop a sustainable industry for Microfinance in order to contribute to the development of small enterprises through representing, supporting, and regulating the work of the service providers in Palestine
Objectives:
One of the most important objectives set by the Palestinian Network for Small and Microfinance was to alleviate poverty and contribute to economic development. To that end, it aimed to; provide the small and micro enterprises finance sector in Palestine with the required support, and strengthen the capacity of microfinance institutions through a number of staff development programs and activities. All in an effort to positively influence the institutions' performance, thus enhance the quality of services provided to the clients in this sector.
Street:
Al-Bireh, AL-Sharafeh - Sateh Marhaba St